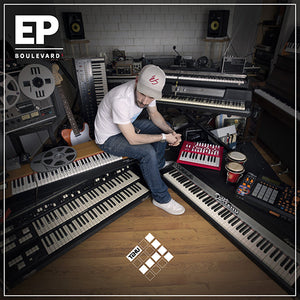 Téhu EP Boulevard - Vol.01 (12")
2017 - Unlog
A01-Phog ft Leonie Gray 05:01 video
A02-Mana Ft Sqreeb 04:33 video
A03-Bias Ft Leonie Gray 04:39 video
A04-Sounds and Peoples 04:30
B01-Peaks 05:28 video
B02-Silent Ft Leonie Gray 03:58
B03-Sans les mots Ft Helmé 03:40
B04-Citizen's Routine 04:26

One year after the amazing experience of this first project, and countless live sessions, Téhu hit the studio to compose and produce a new opus of his "EP Boulevard" series. Beyond hip hop, EPB2 brings together strong grooves, jazzy tones and harmonic improvisations while leaning towards a cinematic experience.

Big thanks to Tour De Manège, Millenium Jazz Music, Dézuets d'Plingrès, and all those who helped in the making of this, once again, great album.