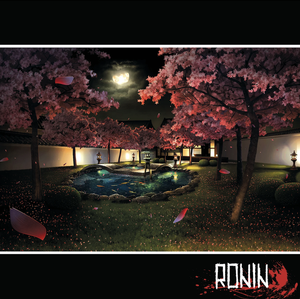 Leighton Harris - Ronin (12")
LH004 - 2022
The RONIN : Birth Of The Scratch Assassins 12" is here and it's taking scratch battle records to the next level.

Side A consists of 16 tracks with skip guard. Ideal for deep practice sessions or heavy scratch battle performance where skipping would be catastrophic. Each track also has a battle loop, which can be used as a looper, either by sampling, beat juggling.

The B side consists of 16 mins of the freshest samples to utilize while battling your enemy. This side is great fun for just experimenting with new sounds, or by needle dropping to find something new or just flexing your muscles perfecting your hand control.

Both sides are etched in the runouts. The disc is also hand stamped with the edition number. The AYAME editions are pressed into the highest grade, stealth black PVC.

This is then housed in a high specification, hand numbered, double side printed, gatefold sleeve and further protected by a PVC wallet.

In addition to the above, you have a 1 in 5 chance of finding the GRAND MASTER RIKIMARU edition. Whereby you get a bonus disc (2x12") in decapitation splatter colorway.

(This is a flesh color disc, with blood red, bone white and jugular purple splatter).
These are issued at random.

In addition to the above, everyone ALSO has a 1 in 100 chance of finding the
D-LAYSTATION Stereo delay effect pedal!
Happy hunting!