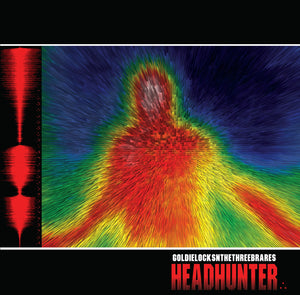 Leighton Harris - Headhunter (12")
GOLDIELOCKSNTHETHREEBRARES presents LH005. HEADHUNTER 2023.

What is it? It's a scratch record, it's a battle tool, it's a scratch drumming device, it's a looper, it's beat juggling ammunition, it's a sound effect and sample encyclopedia.
It's a turntablist's right of passage to elder status, taking you from the urban jungle of Earth to the final boss battle on Yautja Prime... Most importantly, 'tis the battle record you want when the hunt for the best scratch drummer begins!
The young blood side consists of classic scratch sounds and scratch drums featuring skip guard. There is a long scratch sentence and it finishes with aligned drums (most drums come from the d'n'b/ jungle pallet and feature kicks and snares for drumming). There are also a bunch of breaks to be looped or juggled with and a bunch of samples and cues to set the tone for the battle.
The master hunter side consists of the encyclopedia. This side features no skip guard.
There are all the classic scratch noises, plus a bunch of new stuff to explore.
This side also features scratch drums at the end, where vinyl per inch is greatly decreased (less hand movement required). Again these are not in skip guard format but are aligned to the 12 O'clock cue marker points and if you wanted to experiment with needle dropping I'm sure you can have fun with this section. If you are familiar with my previous releases, you kind of know what to expect...
The disc is etched, on both sides in the runout. The edition number is hand stamped into the disc too. Each weapon comes thermo compression moulded into the most advanced, stealth black, alien composites. Then, are housed in hand stamped polylined bags and then these are contained within the high specification, double side printed, hand numbered gatefold sleeves. These are further sealed for freshness with a long lasting a PVC wallet.
In addition to the above, every customer has a 1 in 5 chance of finding the YAUTJA POWER DISC EDITION. Unlock the ultimate weapon to enable enemy kills with ease, from afar. Full on, bonus splatter disc goodness! 2 tools for the price of 1!