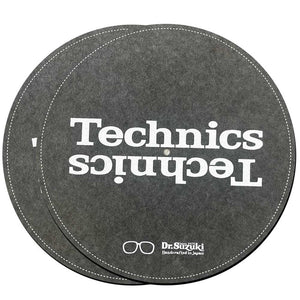 Dr. Suzuki x Technics 12" Skratch Version 2 Slipmat + Slipsheet  12" (Pair)
Skratch: For DJs (Mix, Scratch and Turntablists) seeking high performance.

We are pleased to present our latest collaboration, a highly anticipated and long awaited for partnership with the industry standard of turntables: TECHNICS. We proudly present to you the TECHNICS + Dr. Suzuki Collection! Dr. Suzuki has been the pioneer of the Slipmat at the forefront for quality, performance and innovation for over 40 years. Through meticulously chosen materials and rigorous hours of testing, Suzuki-san's turntable mats continue to make sure DJs are safe andsound on the 1's and 2's. MADE IN JAPAN, these Mats will assure you only the best comes from Dr. Suzuki + Technics.

This product was planned and released by stokyo co,.ltd. under a contract with Panasonic Corporation. Technics is a trademark and a registered trademark of Panasonic Corporation.